Who we are
TextMagic AS is a Nasdaq listed SaaS technology company. Our flagship product is the A2P SMS messaging platform used by over 25,000+ business customers worldwide. In 2021, the total number of SMS messages sent on the TextMagic platform reached 250 million. In 2023 we will launch a new customer engagement software called Touchpoint.
TextMagic AS
Core business: B2B SaaS & SMS Communications
Date of registration: 21.04.2021
Auditor: KPMG Baltics OÜ
Date of Admission to Trading: 15.12.2021 (First North Share List)
Certified adviser: Advokaadibüroo Eversheds Sutherland Ots&Co OÜ
Market: Nasdaq Tallinn
Other listings: -
Management Board
Priit Vaikmaa
Supervisory Board
Kärtu Vaikmaa, Eduard Tark, Pavel Karagjaur, Siim Vips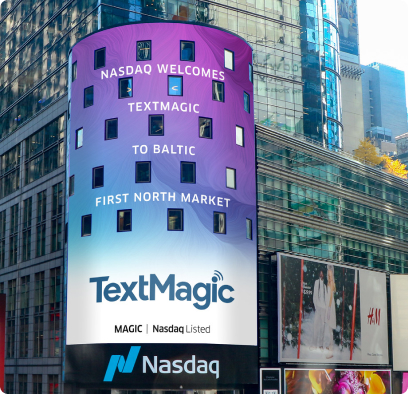 Documents
Our brands
You can learn more about our brands portfolio below.
TextMagic is an industry-leading A2P platform that transforms customer experiences with easy-to-use SMS marketing software. It can be used to communicate with clients, send notifications, alerts, reminders, and deliver SMS marketing campaigns anytime, anywhere.
Touchpoint is a new omnichannel customer engagement platform for sales, marketing, and customer support. It helps businesses focus on their customers' needs and increase sales. Touchpoint is currently in development and is scheduled for release in 2023.
Share information
You can learn more about our brands portfolio below. Loading data...